Start Humming and Strumming!
Write an original song for ORO Scratchers and provide a 15-second and a 30-second version.
Enter for a chance to win cash and a recording session!
The ENTRY DEADLINE is February 17, 2023 at 3:00 PM (MT)
Prizes
Grand Prize: $3,000 + Professional recording session of entry music and song + $500 travel stipend
Runners-up: 2 entrants will win $1,000 each
About the project
This April, the New Mexico Lottery will launch a family of four gold-themed Scratcher games named after the Spanish word for gold, ORO. The Lottery is seeking New Mexico talent to write and record original music for use in the TV and radio spots that will support the game.
Why ORO? Throughout history it has been collected, coveted, sought after, fought over, and treasured. History weaves tales of pirates, expeditions, treasure seekers and rumors of civilizations all motivated by gold. New Mexico has its own rich history with gold. The discovery of placer gold in the Ortiz Mountains in Santa Fe County resulted in the FIRST gold rush in the western United Sates.
The storyline
The creative is themed with a New Mexico treasure hunt. The Lottery roadrunner will try to find the ORO before the pirates: a tricky hawk, a naughty jackalope and a sassy scorpion can get it. The pirates and cash shark will serve as mischievous characters that drive roadrunner to find the gold first.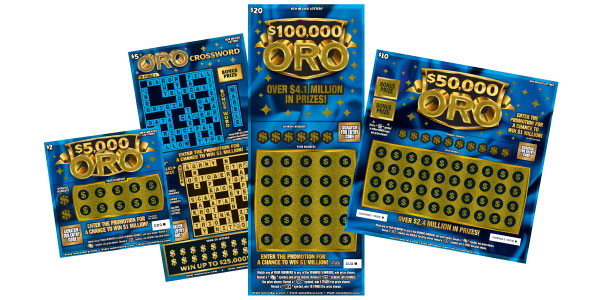 About the ORO Scratchers
The ORO games are scheduled to launch April 3, 2023. There are 4 games:
$5,000 ORO, a $2 Scratcher, featuring $5,000 Top Prizes
ORO Crossword, a $5 Scratcher, featuring $25,000 Top Prizes, Two Crossword PUzzles and a Bonus Word Puzzle
$50,000 ORO, a $10 Scratcher, featuring $50,000 Top Prizes and 2 Bonus Prize Boxes; and
$100,000 ORO, a $20 Scratcher featuring  more than $4.1 Million in prizes including $100,000 Top Prizes
Plus, players can enter eligible non-winning ORO Scratcher games in a Second-Chance Promotion for a chance to win up to $1 Million!
How to Enter
Write an original ORO song and provide a 15-second and a 30-second version.
Be sure to include music and the mandatory lines.
Sing it/play it/record it! This can be as simple as a recording on your phone.
Complete the ENTRY AGREEMENT FORM below AND email your SONG to orosong@nmlottery.com
We'll write you back to let you know we received your submission. (Check your SPAM!)
Got a question? Click HERE for FAQs
Timeline
Friday, January 20, 2023 at 3:00 PM MT:
Entry begins
Friday, February 17, 2023 at 3:00 PM MT
Entry songs and submission form (scroll down for form) due
Friday, February 24, 2023
or as soon as practical
Winners announced

February 27 – March 3, 2023
(estimated, depending on availability)
Music Production

Monday, April 3, 2023
TV & Radio spots begin airing in NM
Important Things to Remember!

1. Entrants must reside in New Mexico to be eligible.
2. Entrants must certify that they are at least eighteen (18) years of age.
3. Entrants must include both a 30-second and a 15-second song (in length).
4. Entries must include the following Mandatory words/lines:
"ORO Scratchers"
"New Mexico Lottery" (or similar wording indicating the New Mexico Lottery)
Entry and info at nmlottery.com (or similar wording)
5. Entries are encouraged to include the following non-mandatory words/lines:
"You must be at least 18 to play. Please play responsibly."
Enter non-winning Oro Scratchers for a chance to win up to $1 Million (or similar wording)
6. Entrants must agree (via checking the YES box on the Agreement form) to the Entry Agreement
7. Entries must include original scripts and music.
8. Entries must not infringe on any copyright and/or intellectual property.
9. Entries must not include profanity, hate speech, or inappropriate language.
10. Entries should not appeal to or be directed at children.
11. The NMLA reserves the right to edit selected ORO songs as necessary.
12. The NMLA reserves the right to perform background checks on the owners of the winning ORO Scratcher Song.
13. NMLA reserves the right to select an alternate winner for any reason.
14. NMLA reserves the right to cancel the competition if the NMLA determines, at any time, that songs, entrants or song winner does not represent the NMLA well.
15. The NMLA is not responsible for songs that violate copyright or other laws.
16. All required information must be submitted for the entry to be eligible. The NMLA is not responsible for mis-delivery, late delivery, or the failure of receipt of any required information, regardless of the cause of the failure of transmission.
17. Entrants may submit multiple songs for entry.
18. Entrants who submit more than one (1) entry may win as a Grand Prize Winner and Runner-Up.
19. Entrants who submit more than one (1) entry may not win both Runners-up prizes.
20. Entries mailed or hand delivered to the NMLA will be disqualified and will not be returned.