Finalists named for VIP experience at NASCAR Championship Weekend™ and $1 million drawing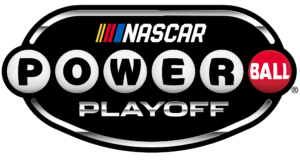 JOHNSTON, Iowa (Oct. 29, 2023) – The Championship 4 is set for the $1 million drawing in the inaugural NASCAR Powerball Playoff™. NASCAR® and Powerball® announced today, during the Xfinity 500 at Martinsville Speedway, the four finalists who have won a VIP trip for two to NASCAR Championship Weekend™ at Phoenix Raceway, Nov. 3-5, and entry into the $1 million drawing.
The four finalists in the Championship 4, include:
Donald Pope – Michigan City, IN
Stephanie Walker – West Point, MS
Peter Schmitz – Santa Fe, NM
Barbara Wipf – Sioux Falls, SD
Each finalist has a 1 in 4 chance of winning the $1 million grand prize in the next and final drawing of the NASCAR Powerball Playoff™. The drawing will be broadcast live on NBC during pre-race coverage of the 2023 NASCAR Cup Series Championship Race on Sunday, Nov. 5 starting at 2 p.m. EST.
The VIP trip for the Championship 4 includes roundtrip airfare for two to Phoenix, three nights hotel accommodations – double occupancy, two Ally Curve Hospitality Club passes for both the NASCAR Xfinity Series Championship Race on Nov. 4 and the NASCAR Cup Series Championship Race on Nov. 5, two passes for VIP experiences at Phoenix Raceway including NASCAR Cup Series™ VIP access, NASCAR team hauler tour, MRN radio booth tour, pace car rides, and Victory Lane access, welcome dinner and all meals, and ground transportation to scheduled events and activities.
The four semi-finalists cut from the playoff in the third elimination drawing have each won a $7,500 prize for making it to the Round of 8, they include:
Misty Goad – Tucson, AZ
Marcelo Jo – Boca Raton, FL
Walter Held – Independence, KY
Angela Tamba – Harrisburg, PA
All semi-finalists entered the national promotion through one of 24 participating state lotteries. Participating lotteries held in-state contests and second-chance drawings throughout the 2023 NASCAR regular season to form a national pool of entrants. Sixteen semi-finalists were randomly selected from the national pool to compete in a series of elimination drawings that mirror the elimination rounds of the NASCAR Playoffs, with cash prizes awarded to all 16 semi-finalists based on their elimination position.
Drawing

Announcement
Date

Race
Playoffs
1. Round of 16
Aug. 26
Coke Zero Sugar 400, Daytona International Speedway
16 semi-finalists advance
2. Round of 12
Sept. 16
Bass Pro Shops Night Race, Bristol Motor Speedway
12 semi-finalists advance,
4 eliminated win $2,500
3. Round of 8
Oct. 8
Bank of America ROVAL™ 400, Charlotte Motor Speedway
8 semi-finalists advance,
4 eliminated win $5,000
4. Championship 4
Oct. 29
Xfinity 500, Martinsville Speedway
4 finalists advance & win VIP trips, 4 eliminated win $7,500
5. $1 Million Drawing
Nov. 5
NASCAR Cup Series Championship Race, Phoenix Raceway
ONE $1 million winner,
3 eliminated win $10,000
Lotteries that participated in the inaugural NASCAR Powerball Playoff include Arizona, Colorado, Delaware, Florida, Iowa, Indiana, Kansas, Kentucky, Louisiana, Maine, Minnesota, Mississippi, Nebraska, New Mexico, New York, North Carolina, North Dakota, Oklahoma, Pennsylvania, Rhode Island, South Carolina, South Dakota, Tennessee, and West Virginia.
NASCAR® is a registered trademark of the National Association for Stock Car Auto Racing, LLC. Copyright ©2023 National Association for Stock Car Auto Racing, LLC. All Rights Reserved. NASCAR®, LLC is not a sponsor of this promotion.
About Powerball
Powerball® holds the current world record for largest national lottery jackpot at $2.04 billion. Powerball celebrated its 30th anniversary last year, and since its first drawing in 1992, the game has helped generate more than $29 billion for good causes supported by U.S. lotteries. More than half of all proceeds from the sale of a Powerball ticket remain in the jurisdiction where the ticket was sold. Powerball tickets are $2 per play. Tickets are sold in 45 states, the District of Columbia, Puerto Rico and the U.S. Virgin Islands. Powerball drawings are broadcast live every Monday, Wednesday and Saturday at 10:59 p.m. ET from the Florida Lottery draw studio in Tallahassee. Powerball drawings are also live streamed on Powerball.com.
About NASCAR
Celebrating its 75th Anniversary in 2023, the National Association for Stock Car Auto Racing, LLC (NASCAR) is the sanctioning body for the No. 1 form of motorsports in the United States and owner of 16 of the nation's major motorsports entertainment facilities. NASCAR consists of three national series (NASCAR Cup Series™, NASCAR Xfinity Series™, and NASCAR CRAFTSMAN Truck Series™), four regional series (ARCA Menards Series™, ARCA Menards Series East & West and the NASCAR Whelen Modified Tour™), one local grassroots series (NASCAR Advance Auto Parts Weekly Series™) and three international series (NASCAR Pinty's Series™, NASCAR Mexico Series™, NASCAR Whelen Euro Series™). The International Motor Sports Association™ (IMSA®) governs the IMSA WeatherTech SportsCar Championship™, the premier U.S. sports car series. NASCAR also owns Motor Racing Network, Racing Electronics, and ONE DAYTONA. Based in Daytona Beach, Florida, with offices in eight cities across North America, NASCAR sanctions more than 1,200 races in more than 30 U.S. states, Canada, Mexico and Europe. For more information visit www.NASCAR.com and www.IMSA.com, and follow NASCAR on Facebook, Twitter, Instagram, and Snapchat ('NASCAR').