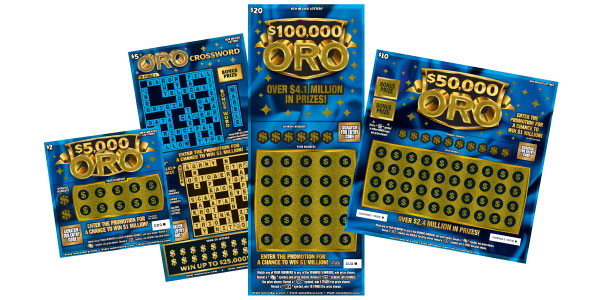 ALBUQUERQUE– The New Mexico Lottery released four new games featuring the Spanish word for gold, ORO.
New Mexico has a rich history with gold. The discovery of placer gold in the Ortiz Mountains in Santa Fe County initiated the first gold rush in the western United States.
There are four games in the series, each featuring striking, glittering gold graphics:
$5,000 ORO, a $2 Scratcher, featuring $5,000 Top Prizes
ORO Crossword, a $5 Scratcher, featuring $25,000 Top Prizes, two Crossword Puzzles and a Bonus Word Prize
$50,000 ORO, a $10 Big Ticket, featuring over $2.4 Million in prizes, $50,000 Top Prizes and two Bonus Prize Boxes; and
$100,000 ORO, a $20 Scratcher featuring more than $4.1 Million in prizes including $100,000 Top Prizes
All four games can be entered in a second-chance promotion for a chance to win $200 gift card prizes and a chance to win up to $1 million. This is the second time a New Mexico Lottery player has had a chance to win up to $1 million in a Scratcher game only sold in New Mexico.
The ORO Scratchers will be promoted on radio and TV with a song created by Arthur Allan Esquibel, New Mexico musician and songwriter. Earlier this year, the New Mexico Lottery held its ORO Song Competition. Out of the many entries, Mr. Esquibel's composition was chosen as the winner. To listen to the winning song along with the runners-up, visit https://www.nmlottery.com/oro-song-competition/
Like all New Mexico Lottery games, the ORO games will generate revenue to fund scholarships for New Mexico students.
Legislative Lottery Scholarships
Since 1996, the New Mexico Lottery has raised $983 million for education and more than 144,000 students have attended college on Legislative Lottery Scholarships.
More information about Legislative Lottery Scholarships is available at the Scholarships page here.