ALBUQUERQUE – Timothy Monte of Tohajiilee was very calm at Lottery Headquarters this morning when he turned in his ticket and said, "I'm here to claim this."  He initially thought his ticket was a $40,000 winner. He was off by a few dollars. His ticket was worth $4 million.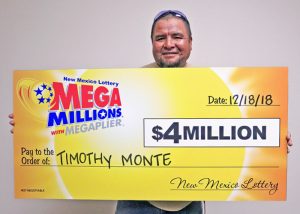 Above: Timothy Monte, winner of $4 Million Mega Millions® prize
Mr. Monte only plays Mega Millions®. He plays his own selection of the same numbers every time and always purchases Megaplier®. He purchased his ticket at Giant Station #25 at 2930 Coors Blvd. NW in Albuquerque for the December 14th draw.
Normally, a player who matches all five white ball numbers wins $1 million. However, Mr. Monte purchased Megaplier for an additional dollar, which multiplied his non-jackpot prizes by the Megaplier number drawn. In this instance, it quadrupled the prize! Mr. Monte's ticket matched the white ball numbers: 05, 22, 26, 43, and 49.
Mr. Monte plans to help his family with his winnings.
$1 million Mega Millions prize from October unclaimed
A $1 million Mega Millions ticket sold in Taos for the October 23, 2018 draw remains unclaimed. The ticket holder has until January 20, 2019 to claim their prize.
Powerball® and Mega Millions Jackpots are Climbing
Powerball® and Mega Millions have a combined jackpot of more than half a billion. Tonight's estimated annuitized Mega Millions jackpot is $284 million and Wednesday's estimated annuitized Powerball jackpot is $262 million.
If either of these big jackpots land in New Mexico, it will beat the state's previous record jackpot of $206.9 million shared by nine Powerball players from the Roswell area in September 2008.
New Mexico Lottery players have until 8:45 p.m. MT tonight to buy tickets for the next Mega Millions jackpot and 8:00 p.m. MT Wednesday night to buy tickets for the December 19, 2018 Powerball jackpot. Tickets are $2 per wager.
Legislative Lottery Scholarships
Since 1996, the New Mexico Lottery has raised $797.5 million for education and more than 116,000 students have attended college on Legislative Lottery Scholarships. 
More information about Legislative Lottery Scholarships is available at www.nmlottery.com.
Follow the New Mexico Lottery on Facebook.