ALBUQUERQUE – Neil Cochran of Albuquerque claimed a $3.52 million Lotto America® jackpot at New Mexico Lottery headquarters on November 7, 2023.
The winning ticket matched all five White Ball numbers of 8, 11, 23, 47, 48 and Star Ball number 4 from the November 4, 2023 Lotto America draw. This is the first time a New Mexico Lottery player has won the Lotto America jackpot.
Mr. Cochran purchased his ticket at Speedway #9093 at 6570 Paradise Blvd. NW in Albuquerque. It was the only winning jackpot ticket for that draw.
A store employee introduced the Lotto America game to the winner. "He told me it had better odds that Powerball® and Mega Millions®, and it was just $1," said Cochran. While players often select a Quick Pick, allowing the terminal to generate random numbers on their tickets, Mr. Cochran said he had a premonition about his numbers and picked his own. And, because he didn't know which game to play the numbers on, he bought all three big jackpot games: Powerball, Mega Millions and Lotto America. He played the exact same numbers on all three games.
Joined by his girlfriend and mom, Mr. Cochran shared that his mom initially did not believe them when he and his girlfriend told her he won. His mother said, "I thought they were pulling a prank."  As we loaded the giant check in his car, we could tell she certainly believes it now.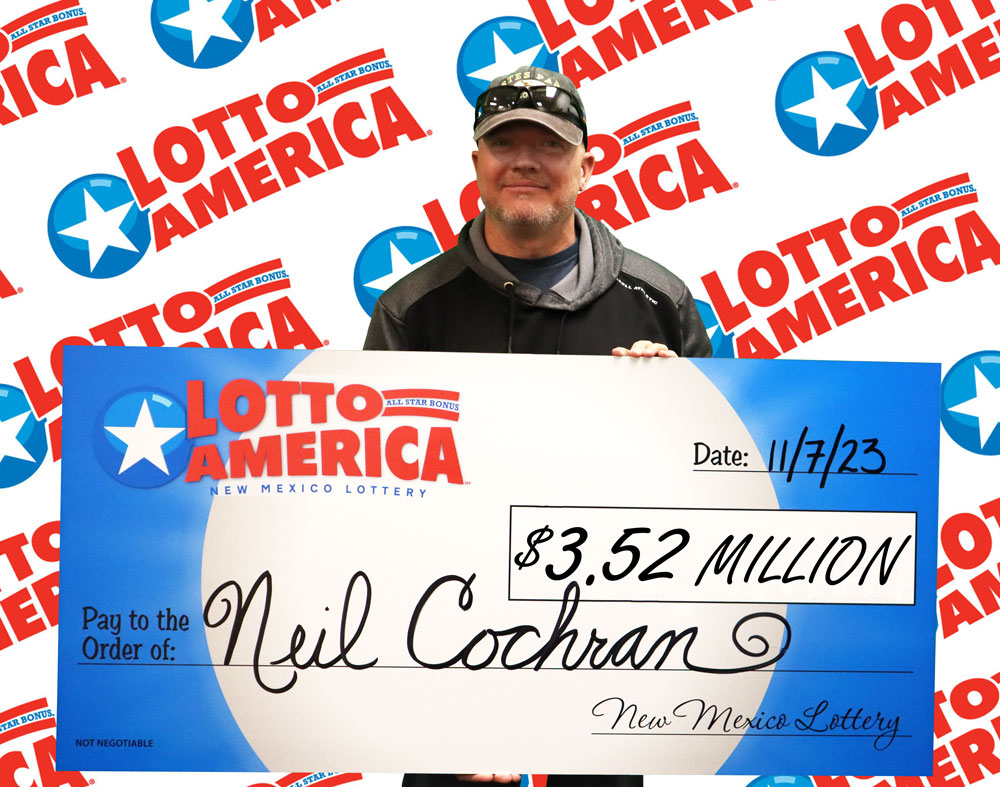 About Lotto America
The New Mexico Lottery launched Lotto America on November 12, 2017. Lotto America tickets are $1 per play, per drawing. Tickets are sold in 13 states: Delaware, Idaho, Iowa, Kansas, Maine, Minnesota, Montana, New Mexico, North Dakota, Oklahoma, South Dakota, Tennessee, and West Virginia.
Drawings are Monday, Wednesday, and Saturday nights at approximately 9:15 PM Mountain Time. Tickets can be purchased until 8:00 PM Mountain Time for that night's drawing.
More than half of all proceeds from the sale of a Lotto America ticket remain in the jurisdiction where the ticket was sold.
Legislative Lottery Scholarships
Since 1996, the New Mexico Lottery has raised more than $1 billion for education and more than 144,000 students have attended college on Legislative Lottery Scholarships. 
More information about Legislative Lottery Scholarships is available at www.nmlottery.com.