ALBUQUERQUE – New Mexico Lottery's HGTV's My Lottery Dream Home Scratcher game has won the Buddy Roogow Innovation Award for Best New Instant Game of the Year. The industry award is presented annually by the North American Association of State and Provincial Lotteries (NASPL).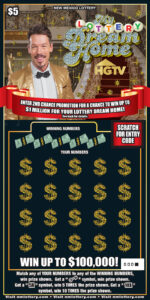 The award recognizes the efforts made to create and communicate innovative attributes of new games, as well their increased sales potential. Considerations included innovation, cost/benefit analysis, strategic analysis and insight and other aspects such as visual appeal and ease of play.
The HGTV's My Lottery Dream Home Scratcher was inspired by New Mexico Lottery Board Chair, Reta Jones. Ms. Jones announced, "We are proud to have introduced such a successful new game, and to bring nationwide attention and recognition to New Mexico for this outstanding achievement."
David Barden, New Mexico Lottery CEO said, "The game was truly a group effort with industry partners." Alchemy3 secured the license for use and provided the custom Collect 'N Win Second-Chance entry platform. Scientific Games printed the ticket with a unique Sparkle™ process. SCA Promotions provided the opportunity for a large second-chance prize through their prize indemnity services. And Intralot helped promote the game throughout New Mexico. "Collaboration is a key to success, and successful games are key to raising funds for New Mexico college students," said Barden.
About HGTV's My Lottery Dream Home Scratchers
The game launched on March 1, 2022. This $5 Scratcher featured prizes up to $100,000 and a second-chance drawing for a chance to win up to $1 million. That drawing will take place early in 2023. Players are encouraged to enter their non-winning HGTV's My Lottery Dream Home Scratchers as soon as possible to be eligible to win.
The New Mexico Lottery was the first lottery to introduce a game based on the popular HGTV show, My Lottery Dream Home. "The licensed property was a dream to work with," said Carolyn Cabell, New Mexico Lottery COO. "The show provided extensive footage and images and allowed for use of images and footage of the show's host, David Bromstad. This really helped us reflect the personality of the show with fun and glamour."
Legislative Lottery Scholarships
Since 1996, the New Mexico Lottery has raised $960 million for education and more than 139,000 students have attended college on Legislative Lottery Scholarships.
More information about Legislative Lottery Scholarships is available at www.nmlottery.com.