ALBUQUERQUE – Set up the Christmas tree and decorate it with pumpkins! The New Mexico Lottery introduced four new Holiday Scratchers today.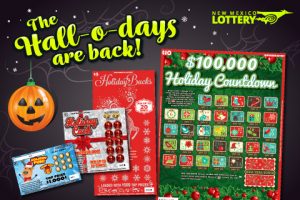 In the spirit of fun, the Lottery addresses the early start of holiday decorations we all see in big box stores with a combined holiday theme, citing "Happy Hall-o-days!"
"Holiday Fun!" features three scenes with a "not very spooky" deer, snowman or Santa. Players have a chance to win up to $1,000 on this gift-tagged theme game.
"Holiday Cash" is decked out with ornaments and a big red bow. The game features $10,000 top prizes, which would be quite a TREAT to win.
"Holiday Bucks" celebrates the season with a beautiful silver deer and snowflakes on a bright red ticket. The game is loaded with $500 top prizes and features a chance to win up to 20 times.
And "$100,000 Holiday Countdown" is an oversized ticket with 31 play areas counting down to a New Year Bonus. Plus, players who enter their eligible $100,000 Holiday Countdown tickets in My Rewards get DOUBLE entries.
All eligible non-winning Scratchers can be entered in the "My Rewards" program at nmlottery.com, or by scanning them with the NM Lottery Official App. In October, players can enter for a chance to win a $2,000 gift card with a 1-year membership to a warehouse superstore (two prizes valued at approx. $2,125 each), a portable action camera (five prizes valued at approx. $400 each), or $200 for Thanksgiving Dinner (ten prizes of $200). Get all the details and enter at nmlottery.com.
Legislative Lottery Scholarships
All profits from the sale of New Mexico Lottery games fund an in-state college tuition assistance program. Since 1996, the New Mexico Lottery has raised $828 million for education and more than 122,000 students have attended college on Legislative Lottery Scholarships. 
More information about Legislative Lottery Scholarships is available at www.nmlottery.com.   
Follow the New Mexico Lottery on Facebook (www.facebook.com/nmlottery)