ALBUQUERQUE – Edgewood resident, David Chemistruck did not win the $700 million Powerball® jackpot. But he is $2 million richer today. His Powerball ticket for the August 23 drawing matched the white ball numbers 6, 7, 16, 23 and 26. He matched all but the red Powerball number.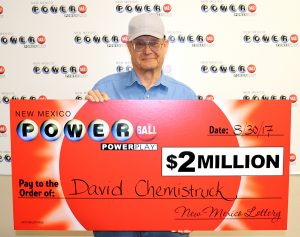 Above: David Chemistruck, winner of $2 million Powerball® prize
Normally, all five matching white ball numbers would result in a $1 million prize. However, Mr. Chemistruck paid an additional $1 for Power Play®, which doubled his $1 million to $2 million. His significant other, Beth, often argued that Power Play was not worth the extra dollar. Today, she admitted she was wrong.
Mr. Chemistruck selected his lucky numbers. He used some of the numbers that his father, who recently passed away, always played and added others that were inspired by his dad – including his birthday. David purchased his ticket at Mr. Gas Mart in Edgewood, just a few hours before the drawing.
Later that evening, David and Beth checked his numbers online, using Beth's cell phone. He read the numbers and Beth looked at the results and told him if they were a match. She couldn't believe they had matched so many numbers and asked David if he had already seen the drawing results. He had not. Beth said the experience was not like the commercials she had seen where people jump and scream. Instead, she said they were silent, shocked, and kept looking at the numbers while uttering, "What?"
That was seven days ago. Today, as they leave the Lottery with a gigantic ceremonial check in hand, they are realizing their dream of building an adobe home.
$1 Million Moriarty prize not yet claimed
Meanwhile, the $1 million winning ticket holder has not yet come forward. The ticket was sold in Moriarty.
The winning numbers for the Powerball August 23, 2017 draw were: 6, 7, 16, 23, 26 and a Powerball of 4.
All drawing game prizes must be claimed within 90 days from the date of the drawing or the first business day after the 90th day if the Lottery is not open for business.
Legislative Lottery Scholarships
Since 1996, the New Mexico Lottery has raised nearly $741.9 million for education and more than 109,000 students have attended college on Legislative Lottery Scholarships. 
More information about Legislative Lottery Scholarships is available at www.nmlottery.com.
Follow the New Mexico Lottery on Facebook (www.facebook.com/nmlottery).