ALBUQUERQUE – The $1 million Powerball® winning ticket holder from the August 23rd drawing has claimed his prize. James Aragon, longtime resident of Moriarty, bought his winning ticket at Southwest LLC #745 (7-Eleven) in Moriarty. It was a Quick Pick that matched all five white ball numbers: 6, 7, 16, 23 and 26.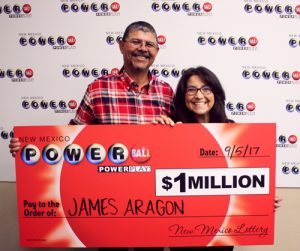 Above: James Aragon, winner of $1 Million Powerball® prize
James and his wife, Robin, were driving to Albuquerque when they noticed their Powerball tickets tucked in the vehicle's visor. They realized they had not yet checked them, even though they had reminded their father to check his tickets. "What the French toast?" was Robin's exclamation when she saw they had a winning $1 million Powerball ticket. "It couldn't have come at a better time. For us, this is completely life altering," said Robin.
James and Robin don't purchase Powerball often, but decided to buy tickets since the jackpot was so high. Typically, when they buy lottery tickets, they include their oldest adult son. But this time he passed up the opportunity saying that "they weren't going to win." Robin responded, "Somebody's got to win; why not us?"
This is the second win for James and Robin as their daughter graduated from UNM with a Legislative Lottery Scholarship.
The hardworking couple hopes to use the money toward retirement, "We have to be smart about it," said Robin.
Legislative Lottery Scholarships
Since 1996, the New Mexico Lottery has raised $741.9 million for education and more than 109,000 students have attended college on Legislative Lottery Scholarships. 
More information about Legislative Lottery Scholarships is available at www.nmlottery.com.
Follow the New Mexico Lottery on Facebook (www.facebook.com/nmlottery).