ALBUQUERQUE – Four new Scratchers are on sale today, Super Tuesday.
Themed with images of cash and gold, these four games total more than $5 million in prizes: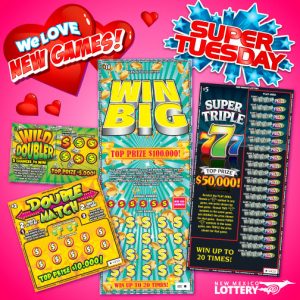 "Win Big" features an explosion of gold coins on a turquoise background with $100,000 top prizes;

"Super Triple 777" features bright number 7s, a chance to win up to 20 times and a top prize of $50,000;
"Double Match" has two ways to play and two ways to win up to a top prize of $10,000; and
"Wild Doubler" has been 'spotted' with wild top prizes of $5,000.
Also on sale are two new holiday-themed Scratchers. Everyone's sweetheart, Betty Boop™, returns with a heart-themed Scratcher featuring a chance to win $10,000. She's a perfect gift for your Valentine! And Lucky Chia Pet® Scratchers have arrived to celebrate St. Patrick's Day.
Legislative Lottery Scholarships
Since 1996, the New Mexico Lottery has raised $719 million for education and more than 109,000 students have attended college on Legislative Lottery Scholarships. 
More information about Legislative Lottery Scholarships is available at www.nmlottery.com.
Follow the New Mexico Lottery on Facebook.