ALBUQUERQUE – Just in time for the biggest gifting season of the year, new "Give Some! Play Some!™" Scratchers from the New Mexico Lottery offer both a guaranteed $20 virtual Visa® gift card and a $5 Scratcher – all in one purchase.
The "Give Some! Play Some!" gift card product was created in partnership with The J.G. Wentworth Company® (OTCQX: JGWE). This is the first time a lottery ticket and a Visa gift card have been offered together. Players can give a gift card and Scratcher ticket as a gift with a chance to win up to $100 on the Scratcher. The $20 virtual Visa gift card can be used anywhere Visa is accepted. Then again, give the card and play the Scratcher – we won't tell!
Traditionally, lottery tickets make convenient, fun gifts that appeal to a broad audience. Adding a $20 Visa gift card to a lottery ticket seems a perfect combination for the gift giving season," said David Barden, New Mexico Lottery CEO. "And, best of all, this unique game offering provides a new opportunity to generate sales for the Legislative Lottery Scholarship Fund."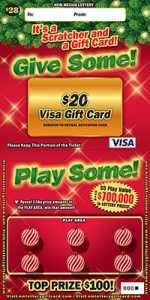 "Give Some! Play Some!" Scratchers are the newest addition to holiday games already in stores:
"Christmas Club" dons dancing piggy banks and a chance to win up to $1,000;
"Candy Cane Tripler" features top prizes of $10,000;
"Holiday Cash" is dressed up in red and green with $50,000 top prizes; and
"Winter White Ice" features glitter on the ticket AND a chance to win up to $100,000.
As with any Lottery game, the New Mexico Lottery reminds players that lottery tickets aren't for kids. Please do not purchase lottery tickets for any person under the age of 18.
Legislative Lottery Scholarships
The Lottery celebrated its 20-year anniversary on April 27. Since 1996, the New Mexico Lottery has raised $710 million for education and more than 100,000 students have attended college on Legislative Lottery Scholarships. 
More information about Legislative Lottery Scholarships is available at www.nmlottery.com.
Follow the New Mexico Lottery on Facebook.
About The J.G. Wentworth Company®
The J.G. Wentworth Company® is focused on providing direct-to-consumer access to financing solutions through a variety of avenues, including: mortgage lending and refinancing, structured settlement, annuity and lottery payment purchasing, prepaid cards, and access to providers of personal loans.
For more information about The J.G. Wentworth Company®, visit www.jgw.com.
Mortgage loans are offered by J.G. Wentworth Home Lending, LLC NMLS ID # 2925 (www.nmlsconsumeraccess.org), 3350 Commission Court,Woodbridge, VA 22192; 888-349-3773.
This announcement shall not constitute an offer to sell, or the solicitation of an offer to buy, nor shall there be any sale of our securities in any state or jurisdiction in which such offer, solicitation, or sale would be unlawful, prior to registration or qualification under the securities laws of any such state or jurisdiction
The Give Some! Play Some!™ Visa® Prepaid Card is issued by MetaBank®, Member FDIC, pursuant to a license from Visa U.S.A. Inc.  MetaBank, nor Visa, is not responsible for lottery rules or winnings, nor does MetaBank, nor Visa, endorse or sponsor those offers. MetaBank is responsible for issuance of the Card and the terms of the related Cardholder Agreement. Card has fees that may reduce initial gift value.