ALBUQUERQUE – The New Mexico Lottery was recognized nationally by the North American State and Provincial Lotteries (NASPL) for "Best New Instant Game of the Year" (2016). The lottery won the award with the "Dia de Los Muertos" Scratcher™ game.  David Barden, New Mexico Lottery CEO said, "The scratcher game seemed to be a perfect fit for a fun and culturally relevant lottery game. This award is a huge achievement and represents a team effort of artistry, graphics and marketing strategy. Just as importantly, it allows us to bring a local artist, Sean Wells, to the forefront on a national stage."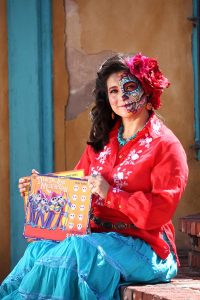 Above: Sean Wells, artist of Dia de los Muertos Scratchers
The lottery also won a "Batchy Award" for the "TV $10,000 and under" category with the accompanying "Dia de Los Muertos" Scratcher television ad, created by in-house animator Andrew Dormody.
NASPL is a more than forty years old association formed to provide resources, education, training, research and communications for and among lotteries. It is comprised of 52 lotteries. The annual NASPL Awards recognize the very best achievements in the lottery industry.
About Dia de Los Muertos
Karla Wilkinson, Director of Gaming Products and recent Powers Award recipient, was instrumental in bringing the game to creation after recognizing the work of New Mexican artist Sean Wells in various local markets.
"The Dia de Los Muertos artwork is colorful, vibrant and fun.  It speaks to the spirit and culture of New Mexico. We knew we had to try and contact the artist to see if she would be interested or willing to design the artwork for a Scratcher," said Wilkinson.
 "To have the Lottery select me – and the opportunity to show my artwork on this level – it's like I won the Lottery," said artist Sean Wells.
Wells created six original paintings celebrating the best of New Mexico's character for the Scratchers. They were: "Dog Is My Co-Pilot" (motorcycles), "56 Oldsmobile" (classic cars) "Balloonists" (ballooning), "The Betrothal" (love), "Folklorico" (dancing) and "Mariachis" (music).
This was the first time a local artist was featured on a New Mexico Lottery Scratcher. This was also the first time Dia de Los Muertos was featured on any Scratcher game in North America, and other states are now interested in using the art.
Introduced in August 2015, the game was so successful that it was followed by a second series of tickets, titled "Legends of the Southwest" in August 2016.  This year's Scratchers feature Mae West, Diego Rivera and Frida Kahlo, the Roswell Alien, Pancho Villa, La Llorona and Billy the Kid.
Sean Wells is a 5th generation Spanish Colonial New Mexican artist influenced by the traditional heritage art forms of the region. Her artwork has been commissioned for the Day of the Dead-themed beer labels, Cerveza de los Muertos and the wine labels for La Catrina Vino. Wells shows at the weekly Rail Yards Market in Albuquerque and participates in the annual Traditional Spanish Market in Santa Fe.
Legislative Lottery Scholarships
One hundred percent of New Mexico Lottery revenues fund New Mexico education. Since 1996, the New Mexico Lottery has raised $707.92 million for New Mexico education. As of Spring 2015, more than 100,000 students have attended college and 53,511 have graduated from college with Legislative Lottery Scholarships.
More information about Legislative Lottery Scholarships is available at www.nmlottery.com.
Follow the New Mexico Lottery on Facebook (www.facebook.com/nmlottery).