ALBUQUERQUE – The New Mexico Lottery's biggest ticket ever, "Super Ticket™," goes on sale today. 
"Super Ticket" is physically the largest ticket the New Mexico Lottery has ever sold. At 8″ wide by 12″ high, the game is taller than a piece of paper and almost as wide. The game is so big it is only sold at retailers with special dispensers.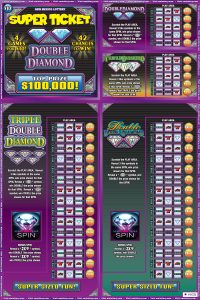 "Super Ticket," a $10 Scratcher, features four Double Diamond™ play areas and 42 chances to win. The game has top prizes of $100,000.  
A new set of games featuring "Sizzlin 7s" is also available today. Called a "Family of Games," the three new Scratchers have graphics and names similar to each other. 
With over $1.4 million in total cash prizes, $5 "Super Sizzlin Hot 7s" features 15 chances to win and top prizes of $70,000;
"Sizzlin Hot 7s," the $2 Scratcher, has over 50,000 prizes of $5 and above and top prizes of $7,777; 
And $1 "Sizzlin 7s" is a tic-tac-toe style game with top prizes of $777.
Legislative Lottery Scholarships 
Since 1996, the New Mexico Lottery has raised $686.75 million for education and more than 100,000 students have attended college on Legislative Lottery Scholarships.  
More information about Legislative Lottery Scholarships is available on the Legislative Lottery Scholarship page. 
Follow the New Mexico Lottery on Facebook.