ALBUQUERQUE – A lucky New Mexico Lottery Powerball player claimed his $1 Million prize today, October 30, 2015 – just one day before Halloween.
Leo Castillo purchased his lucky Powerball ticket at Love's Country Store located at I-40 & Horizon Blvd. in Milan, NM.  For selling the $1 million winning ticket, the store is eligible for a $2,500 lottery bonus.  
In the October 21 drawing, Mr. Castillo's quick-pick ticket matched the winning white balls numbers of 30, 32, 42, 56 and 57, beating odds of 1 in approximately 11.68 million.  Castillo missed the red Powerball of 11 to land the night's jackpot of $90 million.
"I heard it on the radio last Friday and picked up a printout of the winning numbers. I just had a feeling it was me," said Castillo. However, he did not have a chance to check the ticket until this morning.   Castillo plans to pay bills and fish in Alaska with his prize.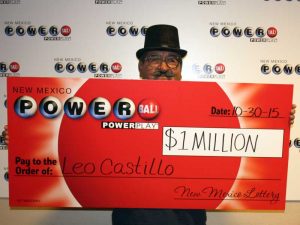 Above: Leo Castillo, winner of $1 Million Powerball® prize
Three New Mexico Lottery Millionaires in 2015
            Castillo is New Mexico Lottery's third millionaire of 2015. 
            Las Cruces resident Romana Saavedra won $2 million playing Powerball in February.
            Los Lunas resident Ricardo Abeyta won $1 Million playing Mega Millions in March.
Powerball Jackpot Winners in New Mexico
New Mexico players have won five Powerball jackpots since the New Mexico Lottery joined Powerball in 1996. Jackpot winners include:
14 employees from Sandia National Laboratory in Albuquerque, $131 million (2000)
Isabell and Rafael Delgado, Las Cruces, $32 million (2002)
John San Cartier of Albuquerque, $93.4 million (2005)
Felipe Piña of Los Ojos, $62.8 million (2007)
A group of nine players from the Roswell area, $206.9 million (2008)
Powerball is currently played in 44 states, Washington D.C., Puerto Rico and the U.S. Virgin Islands. The estimated annuitized jackpot for Saturday, October 31 is $127 Million.
Legislative Lottery Scholarships
Since 1996, the New Mexico Lottery has raised $664 million for education and more than 97,000 students have attended college on Legislative Lottery Scholarships. 
More information about Legislative Lottery Scholarships is available at www.nmlottery.com.