ALBUQUERQUE – Today, Super Tuesday, marks a very special occasion for the New Mexico Lottery. For the first time ever, the Lottery has worked with a New Mexico Artist to create a set of one-of-a-kind Scratchers. Titled "Dia de los Muertos," this $2 ticket features six scenes and chances to win $10,000 top prizes.
Local artist, Sean Wells, created paintings for Scratcher scenes that were inspired by New Mexico culture, the traditions of the Day of the Dead, and the turn-of-the-century Mexican printmaker, José Guadalupe Posada. Sean infused Posada's festive skeleton character style with bright tissue paper backgrounds to create a vibrant New Mexico tale.
Designed to appeal to different interests, the game features scenes that reflect the traditions and personality of New Mexico. MOTORCYCLES — "Dog Is My Co-Pilot," CLASSIC CARS — "56 Oldsmobile," BALLOONING — "Balloonists," LOVE — "The Betrothal," DANCING — "Folklorico," and MUSIC — "Mariachis."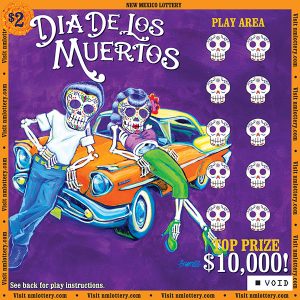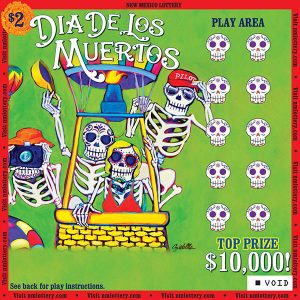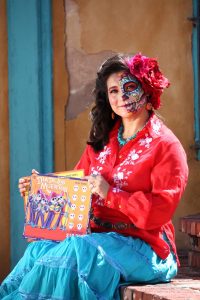 Above: Sean Wells, artist of Dia de los Muertos Scratchers
Also launching today:
Celebrating the kick-off of chile season, the new one dollar "Chile Fever" Scratcher is a spicy number with $2,000 top prizes
"Diamond Dazzler 9X," a $5 game, features top prizes of $50,000
And $20 "Super Cash," a neon orange giant-of-a-ticket features gigantic top prizes of $250,000!
Legislative Lottery Scholarships
            Since its inception in 1996, the lottery has raised $654 million for education in New Mexico. More than 97,000 students have attended college on Legislative Lottery Scholarships. More information about Legislative Lottery Scholarships is available here. 
Follow the New Mexico Lottery on Facebook (www.facebook.com/nmlottery) and YouTube (http://www.youtube.com/user/NewMexicoLottery).