ALBUQUERQUE – Billy Meyer of Los Lunas won $50,000 playing the New Mexico Lottery's "Red Hot Cherries" Scratcher™.
Meyer who plans to marry his fiancée Karisa Ulrich next year, described the win as a "good start" for married life.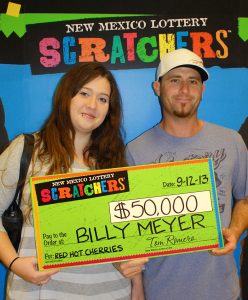 Above: Billy Meyer, winner of $50,000 "Red Hot Cherries" Scratcher™
But first things first. "I'm getting new tires for my truck," he said.
Meyer bought his lucky $5 ticket at the Allsup's Store No. 137 located at 4603 Highway 314 SW in Los Lunas. Previously, the store has sold 14 large prize-winning lottery tickets ranging between $1,000 and $30,000.
Legislative Lottery Scholarships
All net revenues from the sale of New Mexico Lottery games benefit a tuition-assistance program
for New Mexico residents attending the state's public colleges and universities. Since 1996, the lottery
has raised $576 million for education and more than 82,600 students have attended college on Legislative Lottery Scholarships. Approximately 3,460 students from Valencia County have received $16.5 million in Legislative Lottery Scholarships.
More information about Legislative Lottery Scholarships is available atwww.nmlottery.com.
Follow the New Mexico Lottery on Facebook (www.facebook.com/nmlottery) and YouTube (http://www.youtube.com/user/NewMexicoLottery).